Mega Job Fest for B.Tech and M.Tech students , Disha Job Fair 2018 association with Employability Centre, Alappuzha and College of Engineering, Punnapra, Alappuzha on August 4, 2018.
Date : August 4, 2018.

Venue: College of Engineering, Punnapra, Alappuzaha.

Time: 08.30 AM onwards

Qualification : B.Tech & M.Tech. Mech/Civil/CSE/ECE/EEE/EI/IT/M.Tech (All Branches)
Participating Companies
AABASOFT TECHNOLOGIES INDIA PVT LTD
ALBERTEL TECHNOLOGIES PVT LTD
ARMSTECH ENGINEERS PVT LTD
AZYM TECHNOLOGIES PVT LTD
BERRIA TECHNOLOGIES
CRAYSOL TECHNOLOGIES INDIA PVT LTD
CREOPEDIA BUSINESS INTELLIGENCE
COGNIZ INFO TECH
ENLIGHTEN A SCHOOL OF LEARNING
ETERNITY POOLS AND GARDENS PVT LTD
FLEMING EMBEDDED AND SOFTWARE SOLUTIONS
ILLUMINE ENERGY SOLUTIONS
KOOL HOME BUILDERS
NESOTE TECHNOLOGIES
NEST SOFT TECHNOLOGIES
NEWAGESYS SOLUTIONS
QUEST INNOVATIVE SOLUTIONS
SILVERLINK TECHNOLOGIES
SINGULARIS SOFTWARE TECHNOLOGIES
TOUCHQ SOFTWARE SOLUTIONS PVT LTD
WHITE OVAL TECHNOLOGIES PVT LTD
Vacancy Positions
TECHNICAL SUPPORT ENGINEER
ENGINEERING TRAINEE
SALES ENGINEER
FIELD ENGINEER MANAGER
QC ENGINEER(WHRB)
EXECUTION ENGINEER(WHRB)
PLANNING ENGINEER(WHRB)
SITE IN CHARGE(WHRB)
QC ENGINEER(CFBC)
EXECUTION ENGINEER(CFBC)
PLANNING ENGINEER(CFBC)
SITE IN CHARGE(CFBC)
QC ENGINEER(HRSG)
EXECUTION ENGINEER(HRSG)
PLANNING ENGINEER(HRSG)
SITE IN CHARGE(HRSG)
STRUCTURAL ENGINEER
PIPING ENGINEER
QC MANAGERS
NDT INSTRUCTOR
WELDING INSTRUCTOR
CIVIL ENGINEER(PLANNING & CONTRACT)INDUSTRIAL CONSTRUCTION)
CIVIL ENGINEER(INSTRUCTOR)
GRAPHIC AND WEB DESIGNER
CUSTOMER SUPPORT EXECUTIVE
JAVA DEVELOPERS
JUNIOR PHP DEVELOPER
DIGITAL MARKETING ENGINEER
SOFTWARE TESTING – MANUAL
TECHNICAL SUPPORT EXECUTIVE
ARTIFICAL INTELLIGENCE
DATA SCIENTIST
SOFTWARE PROGRAMMER ( PHP & ANDROID )
SOFTWARE PROGRAMMER ( PYTHON )
HR EXECUTIVE
TEACHER(ALL BRANCHES)
ACADEMIC PROJECT COORDINATOR
BUSINESS DEVELOPER
COLLEGE/EDUCATIONAL COORDINATOR
DIGITAL MARKETING PROFESSIONAL
WEB DESIGNER
EDUCATIONAL MARKETING COORDINATOR
STUDENT COUNSELOR
PRINCIPAL (EXECUTIVE HEAD)
LANGUAGE TRAINER(ENGLISH)
TRAINEE ENGINEERS-SWIMMING POOL WATER TREATMENT
TRAINEE SALES ENGINEERS
TRAINEE SERVICE ENGINEERS
JUNIOR SOFTWARE DEVELOPER(JAVA/NET)
SALES ENGINEER
CIVIL ENGINEERS
PROJECT ENGINEER
QA QC ENGINEER
QA QC MANAGER
DY.MANAGER (MEP)
RESIDENT ELECTRICAL/MEP ENGINEER
PROJECT ENGINEER (MEP )
SITE SUPERVISOR
MECHANICAL ENGINEER
PROJECT MANAGER
PROJECT MANAGER
QUANTITY SURVEYOR
PHP DEVELOPER
UI/UX DESIGNER AND FRONT END DEVELOPER
SEO ANALYST
PHP DEVELOPER
WEB DESIGNER
JUNIOR WEB DEVELOPER
WEB DEVELOPER
JUNIOR IOS DEVELOPER
JUNIOR EMBEDDED DEVELOPER CUM TRAINER
JUNIOR JAVA IEEE DEVELOPER
JUNIOR ASP.NET DEVELOPER CUM TRAINER
PYTHON DEVELOPER CUM TRAINER
TECHNICAL HEAD
TECHNICAL LEAD
US IT RECRUITER TRAINEE
UK IT RECRUITER TRAINEE
APAC IT RECRUITER TRAINEE
DOT NET DEVELOPER
PHP DEVELOPER
ANDROID DEVELOPER
EMBEDDED ENGINEER
BIGDATA DEVELOPER
SOFTWARE TESTER
ARTIFICIAL INTELLIGENCE
JAVA DEVELOPER
SOFTWARE ENGINEER
JUNIOR SOFTWARE ENGINEER
SOFTWARE ENGINEER
Over 1000+ vacancies reported in Disha Job Fair 2018.
No Registration fees is for this job fest. Also candidate submit six biodatas and can attend 5 companies interview.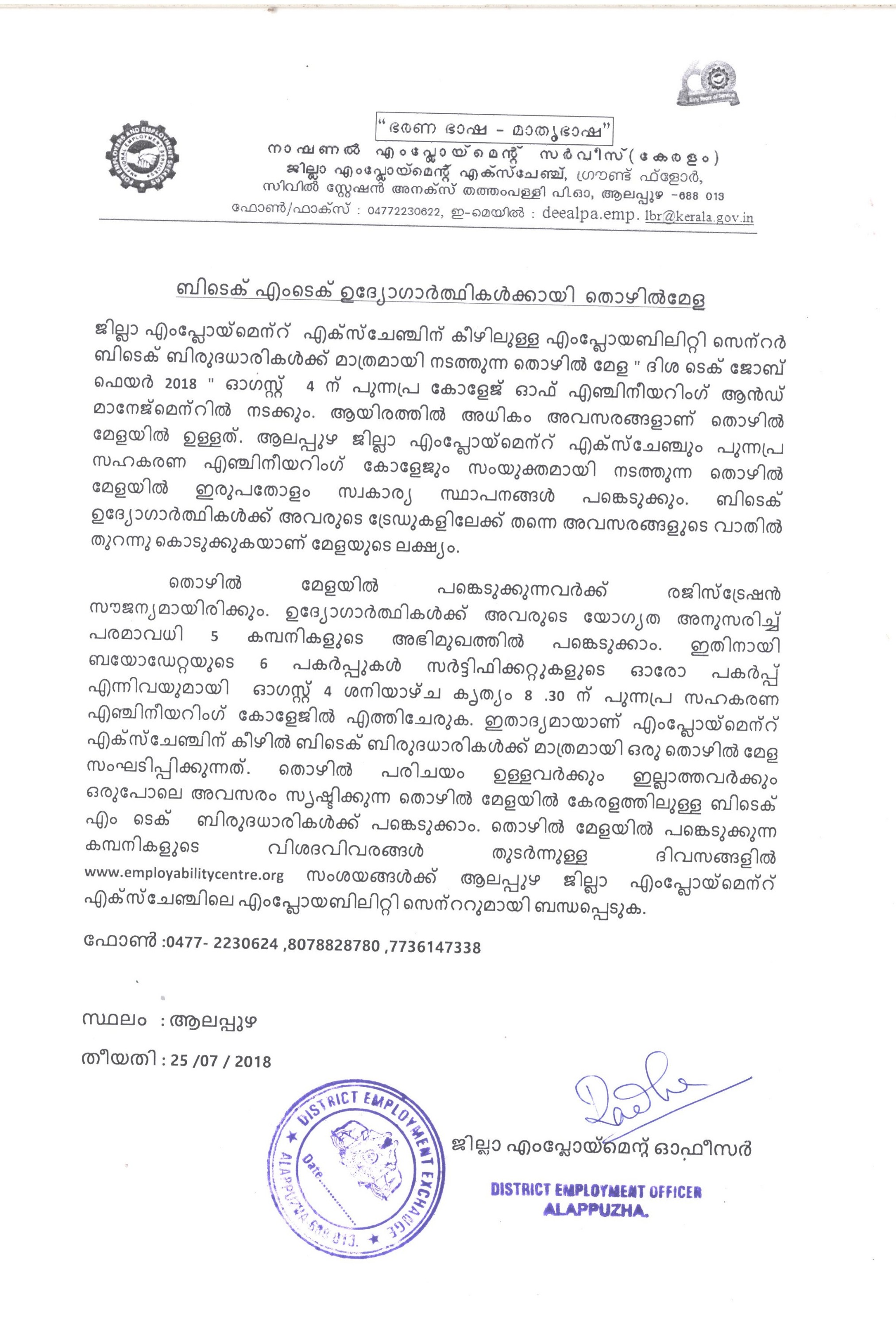 Freshers can also participating this Job Fair. For more details call : 0477- 2230624 ,7736147338 or Visit www.employabilitycentre.org
For Registration visit www.employabilitycentre.org/job-fair/Aug/146
Join our WhatsApp Group